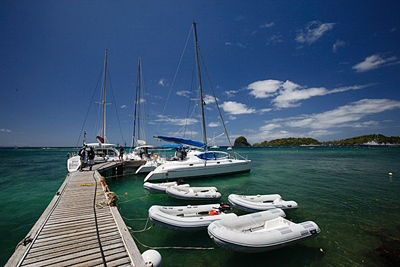 BAREFOOT YACHT CHARTERS, St Vincent's premier yacht charter company, is owned and operated by the Barnard family who have been sailing the waters of the Grenadines for 7 generations. This background gives us the distinct and unusual advantage of insight and local knowledge that most charter companies, no matter how experienced, simply cannot offer.
Barefoot Yacht Charters is not a large charter company. We don't have a hundred yachts in our fleet (we've actually limited our bareboat fleet size to 25 yachts), we don't have 60-page glossy brochures and you won't see our full-page color advertisements in all the yachting magazines.
The fact is that most of our guests hear about us by word of mouth, or are repeat customers who have already sailed with us or are people who have been recommended to us by others.
We insist on a highly personalized service – and many of our guests are surprised to discover that such a "small" charter outfit offers facilities normally associated with so-called "premium companies" – including a satellite weather service, waterfront restaurant and bar,  gourmet customized provisioning service, private jeep rental, travel agency and villa rental service. Oh, and by the way – no, we don't have a chase boat – we have 9 private aircraft (so much quicker to respond to our guests' needs in the event that they have a problem down island).
Our full-service charter base, just a 10-minute drive from St Vincent's airport, is at Blue Lagoon, the best protected harbor on St Vincent's south coast. Bequia, northernmost of the Grenadines, is just 5 miles over the water and the islands of Battowia, Baliceaux and Mustique are visible from the surrounding hills.